Theatre Photography news
LET'S MEET IN DUBLIN!
On the 5th of September I will open a photo exhibition at in Dublin, Ireland (Palmerston House, Fenian Street, Dublin 2).
"Beyond the Stage" 
With great pleasure, I invite you to explore the photographic exhibition "Caramitru – Beyond the Stage," a journey into the intimate world of one of Romania's most distinguished actors – Ion Caramitru. This unique exhibition aims to reveal the lesser-known aspects of the great actor, captured in moments from behind the scenes during his recent years in the limelight.
As the former director of the National Theatre Bucharest and the President of UNITER, Ion Caramitru has impressed the audience with his incomparable talent on stage. Now, I would like to invite you to step behind the curtains and experience the places and moments that have received less media attention but are equally memorable.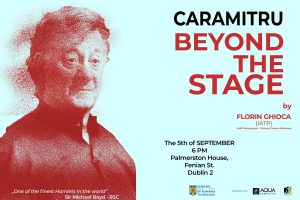 The exhibition features photographs taken during theater tours, intense rehearsals, office moments, and encounters with remarkable personalities. You will have the opportunity to admire images illustrating meetings with a diverse range of individuals, from King Charles to Georges Banu, and from Juliette Binoche to Simona Halep.
By attending the "Caramitru – Beyond the Stage" exhibition, you will get to know Ion Caramitru beyond the spotlight, an experience that only a privileged few have had.
Florin Ghioca is currently holding his 19th personal theater photography exhibition. He has exhibited at the most important theater events in Romania and abroad. Following the renowned exhibitions "Act Angry," "(R)evoluția tablourilor" (The Revolution of Paintings), and "WaterLear," the latter featuring theater photographs submerged underwater, Florin Ghioca surprised the audience last year and earlier this year with an exhibition dedicated to Ion Caramitru. "Beyond the Stage" presented unique images from the last years of the great actor's life, who was a former director of the National Theater in Bucharest. The exhibition was inaugurated at the Bucharest National Theater Festival, in Chișinău, at the National Theaters Meeting, and at the Romanian Cultural Institute in London.